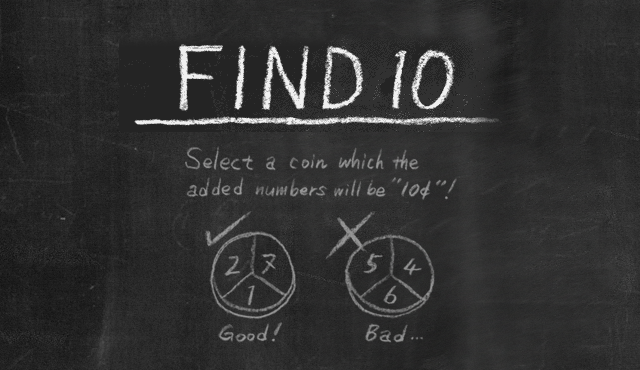 Introduction
Tap a coin that "The numbers on its surface" added up to 10.
That is [FIND 10].
What you need is reflexes and dexterity.
See how many [10]s you can find in 1 minute!
Feature
★攻略のヒント
・

[Playable for everybody who can do addition]
Find a coin that "The added 3 numbers on its surface become 10".

・

[You got 1 minute to go]
Quick calculation skill is the key to successful result.

・

[Super simple game]
Single touch game play.

・

[The blackboard designed screen brings back old days memories.]
This app insists on retro things.

・

[3 game modes are available with different sizes]
2×2(4 coins), 3×3(9 coins) and 4×4(16 coins).

・

[Game Center supported]
Log in Game Center and you can compete with others.

・

[Retina Display supported]
Brilliant graphic is enjoyable with Retina Display.